Members of the European Parliament join Former Foreign Ministers in calling for a comprehensive approach towards nuclear disarmament
Thursday 19 April 2007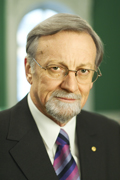 Gareth Evans, Member of the Commission on Weapons of Mass Destruction and Former Australian Minister of Foreign Affairs
Gareth Evans (former Foreign Minister for Australia), Lena Hjelm-Wallén (former Foreign Minister for Sweden) and Senator Emeritus Douglas Roche (Canada) joined members of the European Parliament from across the political spectrum in a conference today calling for a comprehensive approach in addressing nuclear dangers including action on both non-proliferation and nuclear
disarmament.
Senator Roche recalled the successful campaign 200 years ago to end the slave trade, and noted that those advocating an end to slavery did not accept partial measures such as making conditions for slaves better, but called for complete abolition of this inhumane practice.
Senator Roche argued that, similarly, we must not accept partial measures making nuclear weapons slightly more palatable. These immoral, inhumane, illegal and suicidal weapons of mass destruction must be completely abolished.
The conference proposed a number of actions parliamentarians could take including resolutions, declarations, op ed pieces and other initiatives to support nuclear abolition through a nuclear weapons convention (international treaty) and steps towards this including removal of tactical nuclear weapons from Europe and establishment of a European and/or Nordic/Arctic nuclear weapons free zone.
The conference also launched a European Parliament Section of the Parliamentarians for Nuclear Non-proliferation and Disarmament.
See:
Lessons from William Wilberforce , Speech by Senator Emeritus Douglas Roche
The Non-Proliferation Treaty and the Role of Parliamentarians, Speech by Alyn Ware PNND Global Coordinator